About Paul
Paul Mindra here from Southern Ontario, Canada.
I am your host and guide here on this site The Forensic Affiliate open education project wealthy affiliate.
When we approach success with anything we do in life, we need to make a concerted effort to make tomorrow a more brilliant day than we experienced the day before.
I'm not sure I know who said something to that effect.
Confucius said: "Learning without thought is labour lost; thought without learning is perilous." Salman Khan founder of Khan Academy Says:
"There is no mere metaphor, but a physical reality."
argues that learning is in fact neither more nor less than a series of changes that take place in the individual nerve cells of which our brain cells are composed. When a given cell is involved in learning, it literally grows. The process is not exactly analogous to what happens when one exercises a muscle.
How education happens at Wealthy Affiliate
THIS SITE IS BEING CREATED ON THE SITERUBIX-WORDPRESS PLATFORM USING 'HIERO' BY "ATHEMES…"
Create 1 free site courtesy of me, your host, and guide. 
Your name, the Username you will create, and a valid and functional email will activate you.
Click on the links provided below to learn a bit about the platform.
Like most of us, we all have a history and a story to tell.
Meet the Owners:
Wealthy Affiliate Company Profile
More about Kyle Loudoun, Carson Lim and Wealthy Affiliate here.
The Wealthy Affiliate Philosophy:
At Wealthy Affiliate we are taught to "First Learn," and then remove the "L". 
The Wealthy Affiliate Foundation is built on the following:
Anyone can achieve success online;
Anything NEW can appear to be overwhelming at first;
Very little Technical or Prior Business Experience is required because these skills can be taught and learned; and,
Success is a lifelong journey.
---
Errors & Omission
Below the Errors and Omissions Excepted (E&OE) label you will find a "Quick Navigation – Table of Contents."
My story is a long one and I have tried to make navigation easy for you.
Welcome.
---
Quick Navigation – Table of Contents – About Paul Mindra
---
Introduction.
My experiences in the Hospitality Industry spanned almost 3 – 4 decades.
I learned my basic cooking skills at a very early age from my Mother. As a family living in Canada since 1969, we have had 2 restaurants, a farm, and a canning factory.
Prior to coming to Canada, we were in the UK. Our entire family is originally from the Northern Part of India commonly known as Punjab.
Mum and Dad (both now dearly departed) had two restaurants throughout their working careers specializing in Northern Indian Cuisine. The first one was when I was just 10 years old and the other was when I was about sixteen.
In the picture above, I am the teenager between my mom and dad. We are in our restaurant at 84 Yorkville Avenue in Toronto.
Our farm was north of us in Holland Landing.
I chose not to stay in our family businesses and instead pursue a cooking future based on Classical French Cuisine.
I miss my parents very much.
---
Here is a picture of Mom & Dad on their wedding day many, many years ago.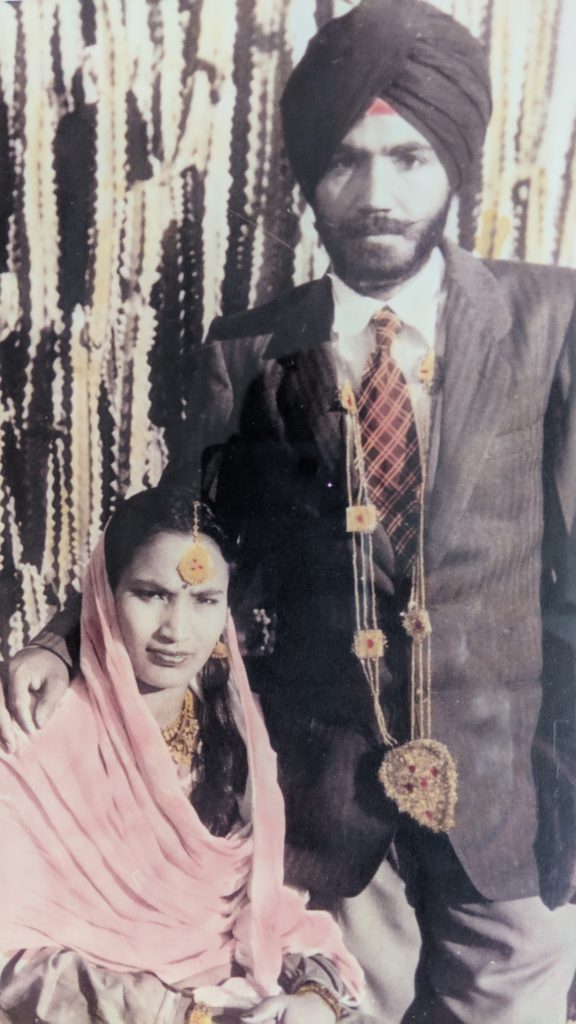 ---
Meet Auguste Escoffier.
A legendary chef who popularized traditional French cooking methods.
Run Time: 3. 00
---
Meet Paul Bocuse.
Our Founder, Our Inspiration – Cuisine Nouvelle
Run Time: 3.43
---
My Kitchen Nightmare…
The video below is completely representative of the conditions I was once faced with when I took over The Old Stone Inn back in 1997. It was my biggest challenge ever.
Run time:  3.35 (Warning: Coarse Language)
You would not believe the mess that I walked into.  Could I turn it around? Yes, I could.
---
Anthony Bourdain.
One of my most respected modern-day Chefs. May he Rest In Peace.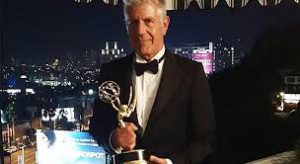 In his book "Kitchen Confidential," he writes:
"Don't get me wrong. I love the restaurant business. Hell, I'm still in the restaurant business lifetime, a classically trained chef who, an hour from now, will probably be roasting bones for demi-glace and butchering beef tenderloins in a cellar prep kitchen on lower Park Avenue…"
"…I'm not spilling my guts about everything I've seen, learned, and done in my long and checkered career as a dishwasher, a prep drone, fry cook, grillardin, saucier, sous-chef, and chef because I'm angry at the business, or because I want to horrify the dining public…"
"…If I need a favor at four o'clock in the morning, whether it's a quick loan, a shoulder to cry on, a sleeping pill, bail money, or just someone to pick me up in a car in a bad neighborhood in the driving rain, I'm definitely not calling up a fellow writer. I'm calling my sous-chef, or a former sous-chef, or my saucier, someone I work with or have worked with over the last twenty-plus years."
Anthony was a couple of years older than me but we both started very young, we both worked very hard, we became very talented, we worked in some very ugly places and we worked our way up. Chefs from that formidable era were 'A Band of Brothers.'
There was very little qualified talent during those times and finding the talent to help us run our kitchens was scarce. We relied mostly on ourselves and sometimes one key other to watch our backs and babysit the rest. The people we worked for treated us as slaves.
Today is different.
On June 8th, 2018, I felt as if I had lost a brother from our band. I learned that Chef Anthony Bourdain had taken his own life.
Anthony's claim to fame came when he wrote a book for fellow Chefs called 'Kitchen Confidential' which unexpectedly, became a New York Times Bestseller. Released in 2000, Free Download Here, this book is not only a "behind the scenes" look at restaurant kitchens but is also his memoir.
"The commercial kitchen is described as an intense, unpleasant, and sometimes hazardous workplace staffed by what he describes as misfits. Bourdain believed that the workplace is not for hobbyists and that anyone entering this industry without a masochistic, irrational dedication to cooking will be deterred." – Source Wikipedia.
He went on to become a Celebrity Chef and travel documentarian who starred in programs focusing on the exploration of international culture, cuisine, and the human condition.
In the video below, Anderson Cooper of CNN pays tribute to Anthony Bourdain.
Anderson Cooper (CNN).
Pays Tribute To Anthony Bourdain.
Run Time: 10.32
It is very strange how the mind works. Why would a man like this who embraced and was passionate about so much in life, take his own?
---
Enough Videos For Now…Back To My Story.
Do I miss cooking professionally?
Not really.
Kitchens are short-handed especially now after the pandemic.
Margins are small, the hours are long. The work rarely stops. I've owned and operated a restaurant.
My now ex-wife and I had one between 1984 & 1994.
We have one grown son who recently graduated from university and is an MSCPT Physiotherapist.
My Son and Ex-Wife live in Alberta, Canada.
I have one older brother and one older sister. The sister is the eldest. Dad passed away in 2013 and Mom joined him in 2018.
I am on long-term disability and live a simple lifestyle without too many distractions in a humble and quiet setting in Southern Ontario, Canada. I, like many baby boomers, am almost at retirement age and to be completely honest with you I have not planned my final years properly.
---
January 2020 – Covid 19 arrives in Canada.
COVID-19 has changed the world as we have known it. Many livelihoods have been decimated.
The novel human coronavirus disease 2019 (COVID-19) was first reported in Wuhan, China, in 2019, and subsequently spread globally to become the fifth documented pandemic since the 1918 flu pandemic.
The first official cases of COVID-19 were recorded on the 31st of December, 2019, when the World Health Organization (WHO) was informed of cases of pneumonia in Wuhan, China, with no known cause. On the 7th of January, the Chinese authorities identified a novel coronavirus, temporally named 2019-nCoV, as the cause of these cases.
Weeks later, the WHO declared the rapidly spreading COVID-19 outbreak as a Public Health Emergency of International Concern on the 30th of January 2020. It wasn't until the following month, however, on the 11th of February that the novel coronavirus got its official name – COVID-19. Nine days later, the US Centers for Disease Control and Prevention (CDC) confirmed the first person to die of COVID-19 in the country. The individual was a man in his fifties who lived in Washington state.
---
The Magic Pan – 1980 MY START
The Magic Pan was a subsidiary of The Quaker Oats Company for over a quarter-century with 110 crepe restaurants in most major cities in the U.S. and Canada.
This wonderful specialty concept was the launching pad for many of us who remain in the hospitality industry today and also for those that moved on to other opportunities within the industry.
If you could make it through the "The Magic Pan" training, you were known as a "Panner" and many doors would open. I became a "Panner," and have always remained grateful ever since.
"The Magic Pan restaurant company was started at Ghirardelli Square in San Francisco, California, by Hungarian immigrants Lazlo and Paulette Fono…."
"…The Quaker Oats Company acquired Magic Pan from the Fonos in 1970 and it became the company's primary restaurant chain. Quaker Oats sold the company to an Oakland, California-based company, Bay Bottlers, in 1982." -Source Wikipedia
I was with the Magic Pan between 1980 and 1984 working as a Production Cook and later was groomed into a Back Of House Manager. I met my now ex-wife (Rosemary) there and in Early 1984, we moved to her hometown of St.Catharines, Ontario where we opened our own restaurant 'The Old Bank.'
We also married in the same year.
See The Old Bank Below.
---
The Old Bank
My now ex-wife Rosemary and I occupied a three-story building that was formerly a 'Canadian Imperial Bank of Commerce.' We did the renovations and launched "The Old Bank Restaurant." 
Rosemary ran Front of House Operations and I ran all Back of House Operations. We had always been a great team.
Our restaurant was a welcome addition to the community as there really weren't any higher-end dining establishments in St. Catharines at that time. People had to travel to Toronto to get really good quality food. We had a very successful business but it was a lot of really long hours and a lot of work.
Our only child was born in 1993 and we decided that it might be a good idea to sell the business and move back to Toronto for a while because I had been offered a very good position with a very well-renowned Hotel there. This way, Rosemary could devote her time to raising our son and I could put Hotel Experience on my resume. So we arrived back in Toronto in the Fall of 1994 where we rented a house in a community called Leslieville.
The Old Bank I believe, is now an Irish Pub.
---
The Sutton Place Hotel
In its heyday, The Sutton Place Hotel was the Home of Royalty and hosted numerous celebrities and dignitaries. It was also a major destination for actors during the Toronto International Film Festival.
I was hired as a Sous Chef and placed as head of the Banquet & Catering departments.
My Executive Chef at that time was a young Englishman named Nigel Didcock. He was doing very well for himself and his family.
He liked what I was doing for him but deep down, knew that I would move along as he would too.
Once dubbed "one of the best in the World" by the TV series Lifestyles of the Rich and Famous, notable guests included Pierre Trudeau, Sophia Loren, Elizabeth Taylor, Stevie Nicks, and Ted Danson to name a few. This was also a stopping ground for the Queen and her following.
It was a great job and I was getting the Hotel Experience that I needed on my resume.
But Toronto had changed a lot since Rosemary and I was there last when we met over ten years ago. We mutually decided that the Big City was not where we were going to raise our son and looked for options.
I listed with a head hunter and looked at various opportunities in smaller communities and came across one that was ideal for our family. It was in 'Wine Country' just on the outskirts of Niagara-On-The-Lake.
Wow, how ironic. Back to the area where we had just left a couple of years ago and I would be working with a Chef that I had moonlighted with before.
Sutton Place, by the way, came to its end in 2012 and has been restructured into a luxury Condominium Complex. Here's the latest:
"Sutton Place hotel is being converted into The Britt | Toronto Star"
---
Hillebrand's Vinyard Cafe
In 1996, we moved back to St.Catharines and bought our first home complete with a Lake Ontario view. On a clear day, we could see the Toronto Skyline on the other side of the lake.
I took the position of Executive Sous Chef at Hillebrand's Vineyard Cafe and worked side by side with a very creative and talented Chef named Antonio DeLuca.
I met Tony while I was in Toronto at Sutton Place and did some part-time work for him when he needed extra hands.
He later went on to open his own restaurant nearby and is currently winding down his lifelong cooking career teaching Apprenticeship Programs at Niagara College Canada. He is a great man and was truly inspirational as a Chef.
Hillebrand's Winery history dates back to 1979 when the estate was originally established as Newark Wines. Like the Ontario wine industry, it has evolved over the years. In 1994 the Peller Family who also owned Andrés Wines acquired Hillebrand Estates Winery, which at that time was Canada's largest producer of VQA and premium wines.
I had a really great time at Hillebrand. Our Chef allowed us to "create."
Ours was one of the first Winery restaurants in Canada, and we had set the standard as a World Class destination. I did not stay too long at Hillebrand as another opportunity surfaced for me in nearby Niagara Falls.
"Historic Boutique Hotel In Niagara Falls Requires an Executive Chef."
Hillebrand's Vinyard Cafe is now called  "Trius Winery Restaurant." If you are ever in the Niagara On The Lake Region in Canada, I highly recommend you check out all the wineries there and go on the Tour and Tastings that are offered.
---
The Old Stone Inn
Niagara Falls was only a fifteen-minute drive from where we lived in St. Catharines and this opportunity would be a huge increase in my salary plus medical & dental benefits for me and my family included. I also negotiated a percentage of the sales incentive bonus to be paid monthly into a future investment account.
The owners, a father and daughter team had been operating this 114-room Boutique Hotel since 1977. The hotel itself was seeing a respectable 'Occupancy Rate' but the Food Operations were in complete shambles. Actually, it was disgusting, and the food being served was not safe.
This was my first 'Kitchen Nightmare' and is represented by Chef Gordon Ramsay here. I kid you not. The only reason that this place had not been shut down was because of the connections this father and daughter had.
Did you know that Niagara Falls has a very shady 'Mafia' base? Let's not go there.
Anyway, this place was frozen in time and the menu was still from the late seventies. The only thing that had changed on the menu was the prices. My Chef and mentor at the time warned me to not go there.
I went anyway.
This was going to be the biggest challenge of my career so far.
Why?, because the owners were not willing to let go of what worked twenty years prior and were suffering from a rare case of Metathesiophobia (the fear of change).
During the first six months, I basically lived at the hotel. It was a tough go.
The entire establishment needed to go through a wash. The kitchen was a mess. Support to the kitchen was a mess. Food handling and safety measures were a mess. Shipping & Receiving was a mess. The front of the house was also a mess.
Did I say that everything was a complete mess?
The owners could see my dedication. I was literally on my hands and knees cleaning and slowly, they started to accept change.
Michael Victor Delben was a very special influence in my life.  He taught me to live life, work hard and prosper. What he failed to teach was that work and life should be in balance.
His daughter (only child), Arlene, and I had a very good working relationship because she could and would accept change if presented properly. She was the managing director of The Old Stone Inn at that time.
She is a very special person and will always remain that way in my eyes. She was blessed with three children of which two twins worked in the hotel part-time when not attending private schools.
When most would collapse, I actually did my best to show them to increase the Dining area and revamp a very neglected kitchen. The costs of change were in the hundreds of thousands of dollars. We also added an elevator to the second floor for guest convenience. This was a huge undertaking and expense.
It's not like you see on TV with Chef Ramsay getting it done overnight.
This took months of 24/7 days with very little rest and sleep in between.
It was kind of weird that although I only lived a fifteen-minute drive away, the only time I saw my son and wife was when they would come and stay with me at the hotel. Even then, I did not have time to spend with them. "Work to live," or "Live to work." The choice is ours.
It was novel at first…wife and son enjoying all the amenities that a 3-4 star Boutique Hotel offers. It was not even rated as 2-star when I came on board and I took it to 4.  I did not know it at the time, but in the background, I was losing my family.
I lived to work thinking that …money was everything. A balance is what was missing.
I always kept the dining room open even during the reconstruction phases.
Yes, it got a little noisy at times, but the people, especially the locals were loving my new and updated food offerings and the changes that were being made. They wanted the Old Stone Inn to become new again.
To make a long story short, by the middle of 1998, the renovations were complete and it was time to relaunch the new and improved Old Stone Inn.
Re-Launch Nite
The relaunch was a complete success. I had established a good reputation through my work for myself so getting some desperately needed media coverage ahead of time was not that difficult, especially with Arlene's contacts.
The dining room was fully reserved until 11 pm that night.
Niagara Falls is a Tourist Destination and people do tend to eat at odd hours. But this was a special night and reservation preferences were given to the locals.
The picture above is of the key personnel that contributed to the changes that had taken place. I'm the guy in the middle with the white hat. The real 'victors' of this change (my brigade in the kitchen) chose to remain behind the scenes.
Success came at a price though. I was spending so much time at my work that I did not realize that I had alienated my family. All I could see was the forest and not the trees.
In 2001 Rosemary asked for a separation and the divorce was finalized in 2004. We settled amicably as most responsible adults should do and she later moved to Calgary with our son and I went back to Toronto and took a Sous Chef position at Liberty Grand. Cooking professionally was all I knew at that time.
I understand how important money and success are in our day-to-day lives. Unfortunately, I was 'Living to Work' instead of 'Working to Make a Living.' I had definitely missed out on something very important…quality time with family.
I urge you not to make that particular mistake that I made way back then. Also by now, the aches and pain that I had neglected prior were moving forward at their own pace into fully-blown Arthritis.
Moving forward…back to the GTA.
---
Liberty Grand
Liberty Grand has been Toronto's Premier Special Events Facility since it opened in 2001 and can accommodate up to 3000 guests at any given time.
This place is huge. The aerial view to the left shows the magnitude of what I mean.
This Ontario Government building is a heritage building located at Exhibition Place in Toronto, Canada.
Built-in 1926 to provide exhibit space during the Canadian National Exhibition (CNE), it was eventually replaced by the Ontario Place complex which later moved to another location nearby.
After a period of disuse, the CNE signed a long-term lease with the Liberty Grand Entertainment Group to use the building for private events. –source Wikipedia.
I had done some work with the Chef in Charge many years ago so the welcome was very warm. I was placed in charge of 'All Hot Food' operations. I had never worked in a kitchen of this size and magnitude before but the experience will remain unforgettable. The below-ground main kitchen was bigger than a football field complete with 'satellite' kitchens on the main floor.
If you are ever invited or would like to host your own event at Liberty Grand, you will not, and I guarantee that you will not be disappointed. Yes, it is expensive, but you will get what you pay for. Working at Liberty Grand was one of the highlights of my career as a chef.
I officially left the Hospitality industry in around 2010 with a few failed attempts at trying to keep my career going but soon realized that I needed to find something that I could do on my own terms because my health was getting worse. So the next few years were spent looking for opportunities that would not require 100% attendance in a 'Brick & Mortar' environment.
My last memory of cooking professionally is those from the Oliver & Bonacini group where I spent a few months before wrapping things up completely. I had worked with the Oliver/Bonacini group before.
---
Starting Back As An Independent Contractor
After leaving the Hospitality Industry for good, I took some time off to reflect. What had I really accomplished working the majority of my life for others?
Sure, I had some savings, but nowhere close to what I would need for my retirement years.
The only reality was that through making others prosper, I had alienated my wife and son and now stood not knowing where to go or what to do next.
I simply had taken 'planning' for granted.
I looked into some Accounting Courses at nearby colleges, thinking that after completion, I could set up a small practice working from home. The courses were extremely expensive and there was no way that I was going to go into 'Student Debt' at this stage of my life. I thought about teaching cooking at one of the local cooking schools, but I knew that my health would get in the way.
I scoured the Internet looking for jobs to work from home, but the majority of them fell into the category of 'Scams,' or simply did not pay enough for the time involved. The only option I could see at that time was to use my 'Communication Skills' and 'Vibrant Personality' (so I had been told by many throughout my cooking career) to look for lucrative 'Independent Contractor' opportunities.
I worked in the Loans industry as a certified mortgage agent, sold residential Water and Air Filtration Units, and even did some business-to-business sales in the 'Clean Energy industry for a company owned by a close friend.
Those activities kept my mind busy and the cash flow active, but commission-based jobs are either 'Feast or Famine' resolves. I still, however, maintain a passive role in these activities because lucrative opportunities do often pop up from time to time and one solid deal can become a life-changer.
MLM and Network Marketing opportunities were fairly popular back then as they are today and I had some friends that were apparently doing well with them. I, unfortunately, was very naive about the entire industry but was willing to learn.
They talked me into some MLMs and High Yield Investment Programs (HYIPs) with the promise of "Getting Rich Quick." You probably know what I'm talking about.
I'm sure that we have all been approached at one time or another to join this or to join that to make money fast. Let me tell you, for the majority of people out there, the only way to get rich quickly is to do it slowly.
---
Get Rich Quick…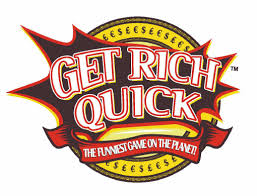 Over the next few years, I followed my 'leaders' from one program to another not quite understanding why they would not just stick to one or two things and 'work' them. Did I mention that I was very naive back then?
One thing that I can say though, is that maybe I was lucky.
I did not ever lose any substantial amounts of money in these schemes and actually made some decent money in others.
I recall a Bitcoin program back in 2015 that was basically a recruiting game dressed up as a crowdfunding platform but it did allow me to slowly acquire a few bitcoin during its life and opened my eyes to new technology.
Call it luck because back then I knew nothing about Bitcoin and Blockchain Technology.
What I did learn was that "Get Rich Quick" schemes and MLM/HYIP programs had mutated into an online Monster, and the offers were becoming more and more sophisticated.
I learned that a very well organized network of 'Pitchmen' and self-proclaimed 'Gurus' were using the Internet and the 'Fear of Failing Economies' to play the ultimate 'Long Con' and 'Confidence Games' on unsuspecting people all around the World.
One of these networks is known as 'The Syndicate,' and I only mention it here because I am familiar with some of the names associated with it. Perhaps you are too.
---
The Syndicate (Business Group)
The Syndicate is a business group that uses digital marketing to sell get rich quick, work from home and self-help products. Read the full article <<<HERE>>>.
The video below gives a good insight into how the syndicate operates.
Running time is approximately 15 minutes (it's worth it).
Internet Marketing as described in the video above is not 'Internet Marketing' in the pure sense.
Yes, Internet Marketing is the process of promoting a business or brand and its products or services over the internet using tools that help drive traffic, leads, and sales. And yes, it does involve lead capture, building lists, landing pages and sales funnels.
But, the ultimate goal of Internet Marketing' or 'Content Marketing' is and should always be to deliver true value to the end-user or buyer and also to not exploit (sell) that user or buyer's valuable information to someone else for further exploitation.
True Value, not hype and exploitation will take you to Internet Marketing success.
There seems to be a common aspiration among many naive people that making money online quickly through Internet Marketing is a real possibility. Don't feel bad. Been there, done that.
The term Internet Marketing used in the context of the above video fulfils this aspiration quite brilliantly. The 'A' teams in these groups are very good at what they do. It describes a business model used to get the 'B' teams to sell substandard and often fraudulent products and services Online, to the community or subculture that embraces the psychology of the 'A' team.
Don't fall for it. It is a vicious circle.
I don't know how deep the rabbit hole goes but here's another video linking Tony Robbins to the Syndicate.
What! Tony Robbins? No way, Can't be. You are wrong, Paul!
---
Tony Robbins and The Syndicate
The running time is approximately 7 minutes.
Even though these videos are not current, they are still very relevant. These schemes operate out in the open, with poorly developed websites, tacky infomercials, and outrageous claims designed to scare off the wary (people like me now) and draw in only the curious, desperate and naive (like I was back then).
I've fallen for a few of these CB & JV products and courses in the MMO (Make Money Online) Niches. I'm not going to be specific because I am embarrassed but you know the ones I'm talking about. They all end in a 7.
$7, $17, $27, $47, $97 etc…. The promo will start at $297 for example and then through the pitch, the price goes down to $27. And of course, you have to hurry because there are only so many left or the offer is only for the first few, and the one I like the best…there is a countdown timer on that really tacky website or landing page.
Give me a break!!!!  I can't take any more…
In almost all cases, the products arrive incomplete, lack any value, and require you to purchase huge upsells to then again, be a letdown. As I said before. it is a vicious circle. The products are outdated recycled garbage. Some marketers actually give away these products to get your contact information.
Listen, Don't get me wrong. I am not knocking any structures or formats out there, or the people running them. And I'm not saying that all of the affiliate programs offered out there are junk. I'm just warning my readers to be careful of the ones being offered in The Make Money Online Niches. The Internet and Internet Marketing can be predatory, to say the least. I speak from experience.
---
My Saving Grace -2016
By late, 2015 and early 2016, I had had enough of the instability of MLM recruitment Ponzis, High Yield Investment Ponzis, and 'Get Rich Quick' push-button Schemes. I was also tired of all the 'well to do leaders' that were taking advantage of those below them.
I found that one of the reasons that these leaders were continual 'Jumping Ship,' was because they were receiving some really good perks and bonuses for migrating their down lines to the next best shiny thing.
Again, don't get me wrong. These programs work for a lot of people, but for me, they are 'Hit & Miss,' possible 'high risk' and very seldom long-lasting.
Somebody that I had met through all of this asked me if I knew anything about 'Affiliate Marketing.' He was having some success in promoting Click Bank and Joint Venture products. Being eager to learn new things, I answered that I would look into this.
When I googled 'Affiliate Marketing,' I got the following ads:
I also dug up some really good links as of July 2019 to share with you:
I then Googled 'Click Bank' and I got this:
When I looked into this, all that came to mind in most cases was what I had seen in a video titled Scamword a few years back. I did find, however, that it's a great place for finding Niche Ideas.
Click Bank is an online digital marketplace that allows people to sell their products and take payments through ClickBank.
ClickBank is mainly an affiliate marketing program.
ClickBank sells digital products worldwide as a top 100 online retailer with over 200 million customers.
For more than 20 years, ClickBank has had a vast library of over 6 million unique products.
Here's what others are saying:
Clickbank is an arena that I will pursue moving forward.
---
When And How Clickbank Started
"In 1998, Tim and Eileen Barber started ClickBank from a Garage in San Diego, California…."
https://www.keynetics.com/kount
"That time, the founder observed that the rapid growth of the internet was creating an outburst of website and digital content which could make it difficult for people to find the products they needed…"
"So, they thought that it could be a great idea if they found one Digital Marketplace for the buyer, seller, and earner. From this thought, ClickBank was Born…
"…Now from all those discussions, I found Yes ClickBank has some weak points in the way of products… but still ClickBank is the most known online Marketplace where anyone- either product seller or affiliate marketer could make money."
If you're looking to buy or sell items through affiliate marketing, then Clickbank affiliation can be one option. It actually probably works well for those that have their own platforms to promote from.
It guarantees safety to both buyers and sellers. Most importantly, it aims at creating more revenue-generating activities for businesses as well as ordinary people.
Clickbank For Beginners: How To Make Money on Clickbank for Free (Step By Step 2020)
THIS SITE (The Forensic Affiliate) IS BEING CREATED ON THE SITERUBIX-WORDPRESS PLATFORM USING 'HIERO' BY "ATHEMES…"
Create 1 free site courtesy of The Forensic Affiliate. Full name, Username, and email required.
Ryan's One Minute Story Is Next.
---
Ryan's Story…
I came across a video from 2014 that was published online by Ryan. Let me share with you what led up to it.
In February of 2016, I had just taken a 'FREE' 14-day 'Project Breakthrough' course (which was not actually FREE) that was going to show me how to make my first Dollar Online in fourteen days presented by Vick Striezeus & Jason McClain.
Wow! The presentations were impressive.
But you know what? This 'Project Breakthrough' was going to cost me over $5,000.00 (upsells) to benefit completely from the program…and the Kicker was that it was leading into yet another MLM Program. Needless to say, I did not proceed and 'Project Breakthrough' is no more.
Through my research, I came across a video that has changed my life quite a bit and has put me on a path that I like and enjoy following.
The Wealthy Affiliate Platform has become a daily routine for me and I hope it will become one for you, too.
It was a Youtube Wealthy Affiliate Review but done in really good taste.
Watch it below.
Video Run Time: 1.17
Thank you, Ryan, for making this video that has changed my perspective on how the Internet can actually create a future for me based on my own accomplishments through the Wealthy Affiliate Program.
Note:
The six courses Online Certification Program that Ryan mentions is now a Ten Courses Certification program that is still available to all for Free.
Not only that, Wealthy affiliate since Ryan's time of making his great video has added a 10 lesson Wealthy Affiliate Bootcamp course that is also available for free for those that want to try their hand at making referral commissions from Wealthy Affiliate.
You can view in detail the courses mentioned above and an Introduction To Wealthy Affiliate Here.
---
Paradigm Shift…

A paradigm shift, a concept identified by the American physicist and philosopher Thomas Kuhn, is a fundamental change in the basic concepts and experimental practices of a scientific discipline. Kuhn presented his notion of a paradigm shift in his influential book The Structure of Scientific Revolutions. Wikipedia
My paradigm changed on the first day that I arrived at Wealthy Affiliate.
Learn a bit more about Wealthy Affiliate and try it for yourself without any cost or obligation here.
Set aside time every day to look at and participate in one or both of the free courses.
I am a firm believer that everyone has a 'Purpose In Life,' and that we embrace the idea that our 'Purpose In Life' is to love life fully by putting ourselves into life.
Throughout time and human history, there has been a constant fascination about what the purpose of life is. Much has been said on the topic, entire books have been written about it, and yet no one seems to agree or fully understand what it all entails.
It's not only just the greatest minds of their times who have thought about what their true purpose in life is, everyone has mulled it over at some point or another.
I wish you the best in your online search to find the right vehicle for you to find that missing piece of the puzzle that can and will allow you to make money consistently online for a very long time.
I have found mine, and it is called 'Wealthy Affiliate University and I promote it openly.
Related Reading:
---
Wealthy Affiliate Overview:
Video Run Time: 28.06
People often get the Wealthy Affiliate platform confused with other "Get Rich Strategies."
Wealthy Affiliate is NOT the best platform to "Make Money Online." Period.
Wealthy Affiliate is the best platform dedicated to "How to Learn To Make Money Online." Period.
The difference is subtle but very significant.
The Forensic Affiliate
paul@theforensicaffiliate.com
---
Make a comment, ask a question, leave a suggestion, and discuss a topic.
The key to success is starting the journey.
Build your online storefront, nurture and feed it daily and it will serve you well for a very long time to come.
Oh, and by the way, "Don't take life too seriously. No one ever gets out alive."
Kindest regards and best wishes,
Your host & guide here at The Forensic Affiliate.
---
---