Shakepay Review
Updated June 2022
I remember when I first got introduced to the phenomenon called Bitcoin. It was back in early 2016 and BTC was between 3 and 4 hundred dollars per coin.
The MLM industry was just starting to use Bitcoin as the currency of choice to do what MLM does.
Mostly Scams.
I jumped in online with Zarfund. My wife does MLM and she's good at it.
I learned how to open a Blockchain account.
I still have blockchain accounts to this day.
At that time, Cryptocurrency exchanges were still in development. Bitcoin vending machines were starting to pop up all across Canada.
Many set up machines at cheque-cashing and gold-buying places.
I wasn't one of them but I used the machines when I needed one.
I no longer need one.
I like Cryptocurrency and the Dollar.
I live in Canada, more specifically, Ontario, Canada.
Financially, I am governed by the Ontario Securities Commission.
I am Shakepay verified and promote Shakepay to my fellow Canadians that have a bank account and want to experiment and get started with cryptocurrency.
Shakepay may or may not be governed by the same commission as they are from another Province.
They are from Montreal, Quebec.
---

Shakepay – Review
Related:

Company Profile
Shakepay Inc.
Mailing Address:
500 Place d'Armes, Suite 1800
Montreal, QC.
H2y 2W2
Shakepay Inc. is a regulated Entity:
AMF #904007
FINTRAC #M17065696
Founders:
Jean Amiony, CEO
Jean Amiony co-founded Shakepay in 2015 after seeing a need for Canadians to have more control over their wealth.
After exchanging a couple of emails, we were able to do this interview via google meet on September 23, 2020 (Wednesday @12pm). The duration of this interview was 19 minutes and 46 seconds. – Urgen Kuyee
Roy Breidi is Co-founder & CTO at Shakepay. He and Jean met and studied together at McGill, a public research university in Montreal, Quebec, Canada.
Prior to co-founding Shakepay, Roy was a former Software Developer at Morgan Stanley and a  Computer Engineer at McGill University.
Shakepay started as a side project for the pair working on week-nights and weekends and their commitment has led to working towards a seamless crossover between the current financial system and the digital asset world.
View Roy's profile on LinkedIn Here.
---
Scamdoc Analysis
ScamDoc.com is a web tool that evaluates "digital identities" reliability (email address or website).
It provides answers to questions frequently asked by Internet users:
How to check if a website is reliable or not?
How to detect fraudulent emails?
The use of ScamDoc is free and unlimited. As such, this site can be used by anybody who wishes to get some information before making a purchase or during an exchange with an unknown contact.
ScamDoc uses a web service called ScamPredictor: an algorithm developed by HERETIC society (founder of Signal-Arnaques) which uses an artificial intelligence classification system. Just enter an e-mail or a website URL to get a detailed report with a trust score!
ScamDoc Analysis For Shakepay:

This website is mature (been registered for multiple years) which is a good point for the establishment of credibility.
HTTPS (SSL) protocol is detected. This means that this site is considered 'Secure.'
The scoring and indications provided by ScamDoc are calculated via a complex algorithm. It reflects the trust you can give to the website. Please note that ScamDoc site publishers do not influence the rating of a specific domain or URL.
---

What Is Shakepay?
Shakepay is a Montreal-based FINTRAC compliant buy & sell currency platform designed specifically for users in Canada.
The platform allows Canadian Residents to buy and sell Bitcoin and Ethereum using CAD (Canadian Dollars) directly through using their smartphones or computers with just one click.
Built ideally for mobile, the platform allows users to send and request CAD (Canadian Dollars), BTC (Bitcoin), and ETH (Ethereum) directly on the APP to and from other Shakepay users.
Users can add funds to their wallets via Interac e-Transfers, Wire Transfer, and even Debit Card Transfers making the process especially convenient for those just getting started with digital assets.
---
Funding Fees & Timelines:
Cash In and Cash Out with no fees, instantly. Your funds are always available.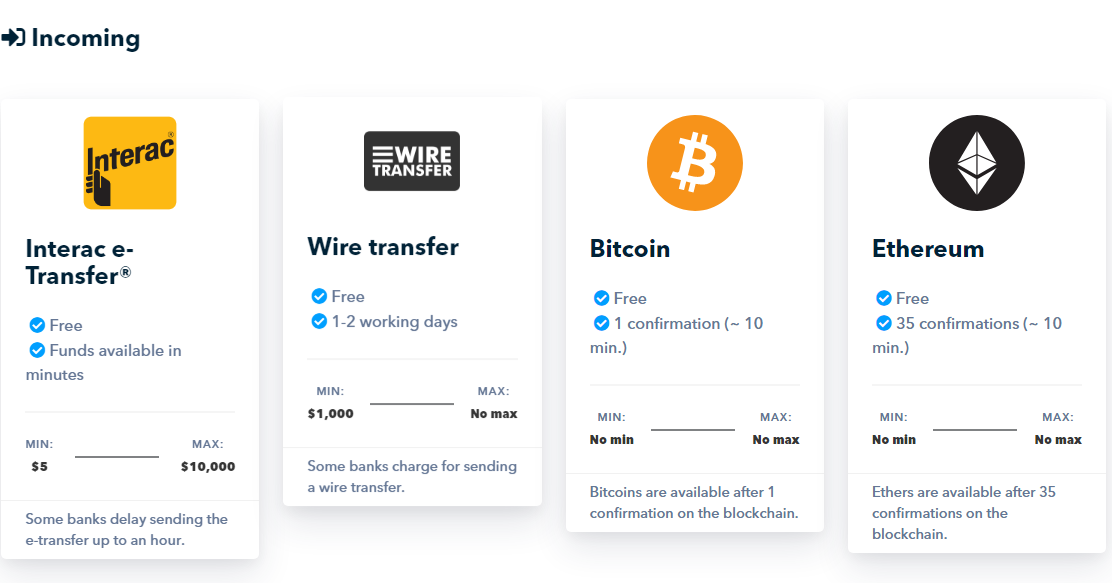 Interac E-Transfer is Free
Wire Transfer is also Free (compare with others that charge $25.00 and more.
Bitcoin and Ethereum transactions are also free.
There is no fee to send and receive CAD and BTC to and from other Shakepay users. Additionally, Shakepay does not charge users a fee to transfer CAD to their wallets.
There is a minimum transaction size of $1,000.00 CAD on wire transfer deposits.
An electronic deposit via Interac is possible for transactions as small as $5.00 CAD, but daily limits of $1,000.00 CAD (Interac online) and $ 10,000 CAD (Interac E-Transfer) apply.
All communication between the apps and Shakepay servers is made through SSL (Secure Socket Layer) connections. The servers themselves use AES-256 to encrypt customer data.
---
Shakepay Video – The Easiest Way to Buy Bitcoin.
In the Video Interview below, John Vallis from 'Bitcoin Rapid Fire' speaks with Jean Amiouny, Co-Founder and CEO of Canadian bitcoin wallet/exchange, Shakepay.
Video Run Time: 1:17:26 (it's worth it).
"I came across Shakepay, tried it out, and was blown away by how easy and fast it was to fund, buy Bitcoin, and withdraw to cold storage. As a result, I thought it would be fun to speak with Jean to learn about how they do this and discuss the Bitcoin scene here in Canada. Enjoy." -John Vallis.
---

So How Does Shakepay Make Any Money?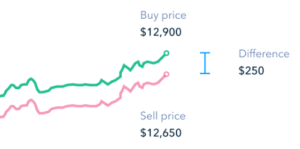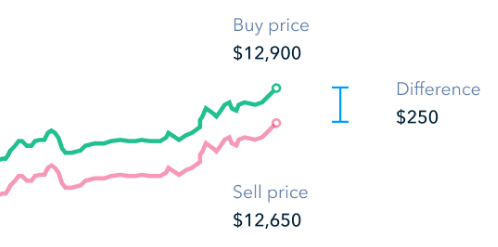 With no commissions and no transaction fees, "How does Shakepay make any money?" is a valid question.
Shakepay is a commission-free service. This means that do not charge a commission for buying or selling either of their cryptocurrencies…BTC or ETH. Shakepay also covers transaction fees for moving your CAD or cryptocurrencies off-platform (for example, moving your BTC from Shakepay to another BTC address).
SEE FUNDING FEES AND TIMELINES HERE.
"This is a pretty awesome perk for our customers! Most platforms will charge you fees or a commission to buy, sell or move out your cryptos. These fees can quickly add up and it's all on you to pay them. With Shakepay, there are no surprise hidden fees – what you see is what you get. And what you get is more cryptos in your pocket."  – Jean Amiouny CEO & Co-Founder of Shakepay.
It is important to understand that Shakepay is not a marketplace where customers buy and sell with other customers. They are more like a local retail store that buys and sells goods. They offer digital currencies (BTC or ETH) for sale directly to their customers. When a customer buys Bitcoin for example through Shakepay, they are selling them the Bitcoin themselves. Similarly, when a customer sells their Bitcoin, Shakepay buys the Bitcoin directly from the customer.
"To make money, we set the price you can buy or sell digital currencies on Shakepay. At any point in time, there will be a small difference between the price customers can buy crypto and the price at which they can sell" says Jean. (See illustration below):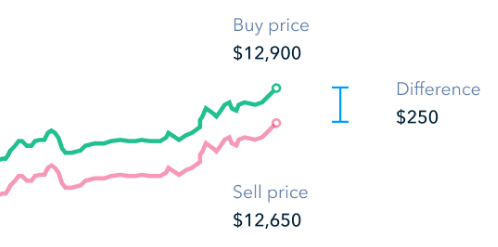 Shakepay will capture this difference as revenue to cover its costs as a business, maintain its platform, and offer great continued service to its customers.
---

Summary
Not only does Shakepay not have any fees associated with what they offer, but they also offer a unique referral program to those Canadians that share their platform with other fellow Canadians.
If you Refer a friend or family member using the referral code that wants to buy some Bitcoin or Ethereum (minimum $100.00 CAD/CDN worth) then both of you will receive a referral in CAD/CDN deposited into your wallets. How cool is that?
I say:
---

Let's Get Started
You are also given the option to download the App for your phone. You will need this APP.
I have it on my phone, desktop, and laptop.
Once you are signed up, fund your account through your bank by following the directions provided by Shakepay. Please provide information that can be easily verified.
Next, you will want to get verified. Once cleared, you are ready to go.
While waiting for verification you can still use the site or the App.
All Good.
Shakepay is founded by a couple of Canadians who met at university.
Shakepay is a good tool to have and cold storage is safe.
Shakepay was founded in 2015.
I use Shakepay. I like it.
I am also a Wealthy Affiliate member in good standing since 2016:  id#39CB2D34.
Click on my image above to view my profile there.
Wealthy Affiliate started as a Keyword Research Tool back in 2005.
Meet the owners of Wealthy Affiliate Here.
Learn More About Wealthy Affiliate Here.
Cheers,
Paul.
---